forging an army of good for good
One Stone is a student-led and -directed nonprofit that makes students better leaders and the world a better place. Our program empowers high school students to learn and practice 21st century skills through experiential service, innovative initiatives, social entrepreneurship, and the radical reinvention of learning.
One Stone does not charge membership dues or fees, ensuring that our programs are accessible to any high school student who wants to be a better leader and make the world a better place.
One Stone Believes in
the Power of Students
Founded in 2008 by Joel and Teresa Poppen, based on the simple belief that students could make a real difference if empowered to follow their passions, One Stone now serves 200+ student team members from more than 20 different high schools across the Treasure Valley. Among these is One Stone itself, a private, tuition-free high school that is unlike anything else in the nation.
But One Stone didn't set out to be a school. One Stone set out to start a revolution. As active participants in the governance and direction of the organization, with a board of directors comprised of two-thirds students, one-third adults, students are in the driver's seat.
Our innovative initiatives grew out of the desire to help students use their voice to change the world. At the starting line for One Stone is Project Good, an experiential service program that mobilizes the power of passionate students to bring real-world solutions to complex issues. Next came Two Birds, our student-led and directed creative services studio. Then we doubled down on entrepreneurship through the launch of Solution Lab, a business incubator for high school students. In each of these platforms we teach and use design thinking—ensuring we are relevant, innovative, and focused on our end user for real results.
When One Stone's end user, high school students, began asking for a One Stone high school (because we learn so much at One Stone!) we listened. We incubated. We researched. We tore through sticky notes. And what we discovered was this: our unique student-led and directed culture, rooted in empathy and powered by design thinking, was the special sauce that would allow us to reimagine learning. One Stone High School was born, and a revolution was launched.
We are in the habit of disruption. We are unafraid. We believe. And together with our partners, we are forging an army of good, for good.
We are the ones you have been waiting for.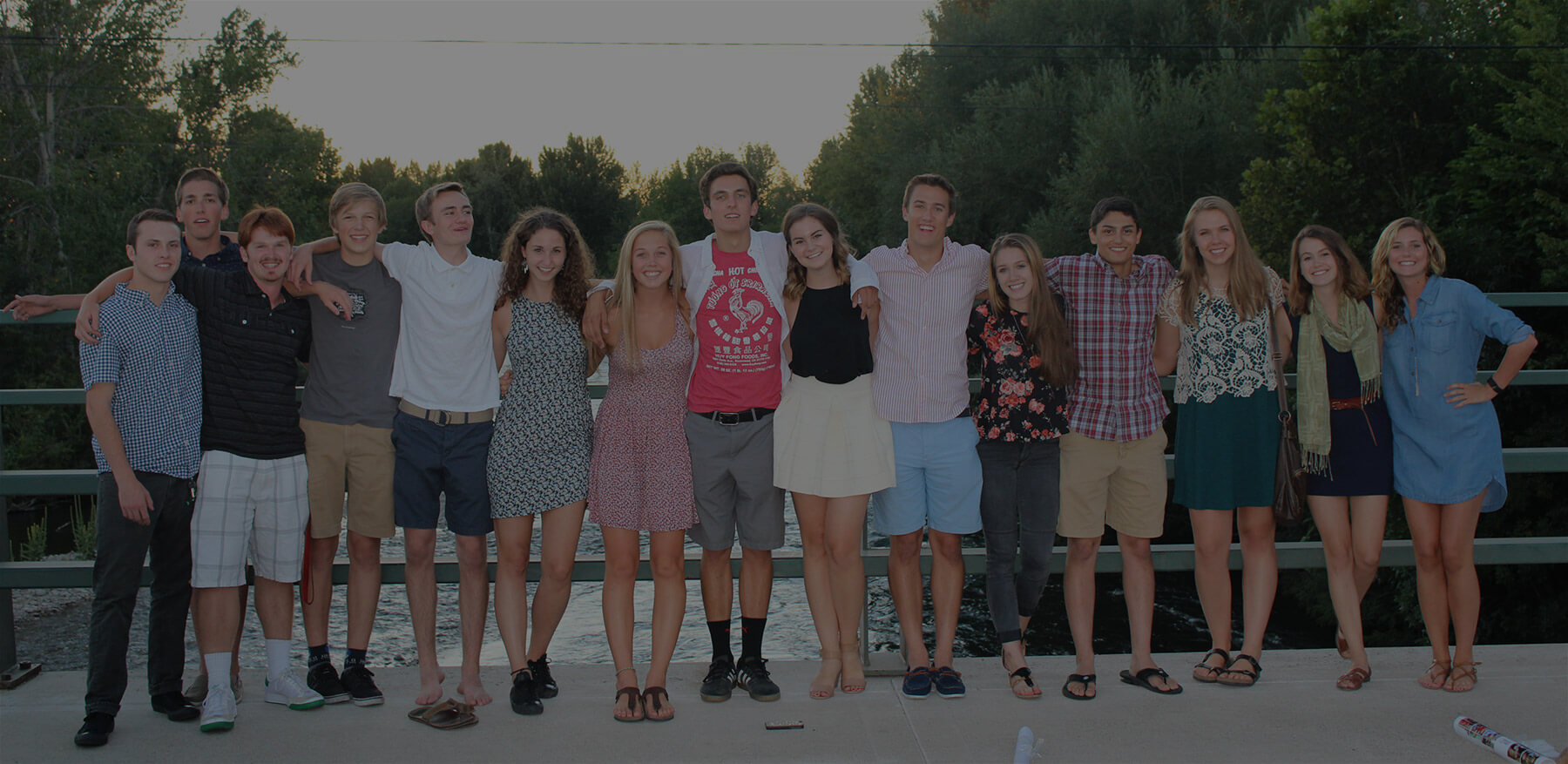 "Most teenagers depart their senior years with a diploma and an unfortunate sense of irrelevancy to the outside world. Any One Stone student has a different story. My three years with this fantastic organization saved me from the confusing mediocrity that was high school, and instead, exhibited the power and responsibility I have as a human being to make the world a better place. The empathy, leadership, and community service my teammates and I experienced granted us with both a lifetime of extraordinary memories and pertinent 21st century skills, not only preparing us for college but for the rest of our lives."
–Kate Simonds, University of California Berkeley
Watch Kate's TEDx talk, "I am 17"
our Process is rooted in design thinking
Our work is rooted in design thinking, a creative problem solving and innovation discovery process developed at Stanford University's d.school. Using design thinking, we can uncover new ideas that allow us to disrupt for good—improving the status quo for lasting change. Through this, students learn and practice critical 21st Century skills: empathy, collaboration, communication, leadership, innovation, critical thinking, adaptability and creativity. The process is deeply rooted in empathy, guiding the development of the project with the end user in mind. The steps of design thinking are as follows:
Understand & Empathize
We start by understanding the problem. Through interviews with experts in the field, end users and recipients, we gather and examine the data, enhance our perspective, and get the lay of the land. We design solutions for recipients, or clients, not for ourselves. Through the design thinking process, we stay rooted in empathy, always keeping the end user's perspective in mind. Empathy is the star of the show in all phases of design thinking.
Define
Using what we learned, and the empathy we have gained, we define the problem with an actionable problem statement, a "how might we…" invitation to a solution.
Ideate
With our "how might we…" statement defined, we go into idea mode, moving from problem to possible solutions. We go for big ideas here, with "51" in mind; we throw out our first 50 ideas because those are the obvious ones that have not worked. The good stuff starts to come at idea 51.
Prototype & Test
We get the ideas out of our heads and into the world where they are free to morph and change. Prototypes can be anything in a physical form: a business plan, storyboard or a model built out of popsicle sticks, pipe cleaners and feathers. We love pipe cleaners. This is the hard part. We take our very favorite prototypes to the end user/recipient/client and ask, "whadaythink about this?" Sometimes they love it, sometimes not so much. Either way, we gather valuable feedback for continuous improvement. We iterate, iterate, iterate.
Implement (Disrupt for Good)
BOOM! Delivery. We roll out our project, product, campaign or idea and put it into action. When we disrupt for good, we are changing the way things currently are, to the way things could be, resulting in positive change that is also lasting…for good.
Evaluate & Reflect
We gather our outcomes and evaluate to learn what worked and what did not work. We ask ourselves what we learned and what we will take away from the experience.
"To me, One Stone is an empowering, supportive family that has shown me that my ideas can have an immediate impact in my community. One Stone has instilled a greater sense of confidence in who I am and liberated me to always be ready to use my voice as a means to create greater good in every aspect of my life. As I continue on in my life endeavors, I can't help but look back and smile at my experiences In One Stone, knowing not only the impact I left on my community, but also thanking One Stone for shaping me into who I am today."
–Chase Choate, One Stone Alum, University of Southern California
"One Stone gave me the courage to follow my heart while also instilling in me the invaluable reminder that anyone can create ripples of goodness in the world. The magic of One Stone allowed me to always see the good in others and seek to make the world a better place. I learned that service, compassion, empathy and kindness are the most transformative and life-changing gifts you can give to the world. One Stone ultimately changed my life."
–Sienna George, One Stone Alum, Boise State University
"One Stone was a transformative presence in my life. During my three years as a member I gained skills that will serve me for the rest of my life. I became a better collaborator while working with some of the most amazing people I've ever met. My confidence as a leader also grew immensely through my experiences. One Stone prepared me for leadership roles in college and beyond, but more importantly, it gave me skills that will be valuable in all aspects of my life—and I gained these skills by working on truly meaningful projects where I made life-long friends."
–Grant Koehl, One Stone Alum, Davidson College
"One Stone has by far been one of the most influential experiences of my life. I discovered a passion for service and experienced first-hand the impact a single group of high school students can make on a community. Throughout my time in One Stone, I grew as a leader and a team member."
–Ana Robin, One Stone Alum, Seattle Pacific University